Pop Tabs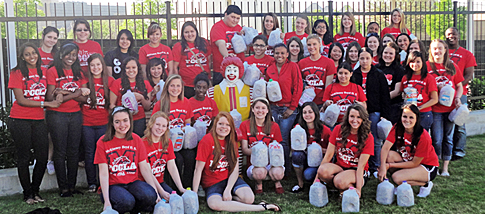 Unlike the urban legend states, pop tabs do not support medical treatment of any kind including chemotherapy or dialysis; however, pop tabs do support the operations of Ronald McDonald Houses across the country.
This popular fundraiser benefits seriously ill children by helping provide a place for them and their families to stay while they are out of town for medical treatment.
How do Pop Tabs Help?
The tab of an aluminum can is pure aluminum unlike the rest of the can, which contains paint and other residue. Recycling the tabs generates proceeds to donate to a local Ronald McDonald House. The tabs do not pay for treatment or night stays — only house operations. Hundreds of thousands of pop tabs have been collected to benefit Ronald McDonald Houses. Click here to read a story about one local elementary school and their efforts to collect pop tabs.
Click here to download a label to print and use on your own containers.
How to participate
How to collect Pop Tabs
The Ronald McDonald House of Dallas does not have the space or resources to collect individual pop tabs. If you would like to host a collection, we ask that you do the following:
1. Collect and store the pop tabs
Upon availability, the Ronald McDonald House of Dallas can provide collection boxes for your pop tabs or you can create your own collection containers.
2. Have the tabs recycled in your community and mail the proceeds to us or use them to purchase items on our Wish List.
Find a local collection center that accepts pop tabs and redeem them there. When mailing a donation, please note the individual or group collecting the tabs and provide a contact's mailing address so that we may acknowledge your gift.
Checks payable to:
Ronald McDonald House of Dallas
4707 Bengal Street
Dallas, TX 75235
3. Drop off your tabs at the Ronald McDonald House of Dallas.
There is a collection container outside the front door for drop-offs at any time. Please note: Pop tabs may not be left in milk jugs or other closed containers. Empty tabs into an open box or bag before delivery.
Please note: Pop tab donations are not tax-deductible.