Donor Spotlight

We are so grateful for the Princess Alexa foundation who has so generously donated a beautifully hand-painted dress up closet full of clothes for our kids. They also throw a fabulous Valentines party for us every year and it's one of the highlights of the year for our families.
This year the party was on February 13 and there was face painting, crafts, food, entertainment -- and of course, plenty of dress up clothes. Each child received a costume to keep. And Princess Alexa replenished our dress up closet in the playroom. Everyone had a fabulous time!
Please check out their website to see what they're all about.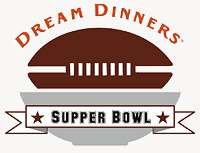 NFL Wives Compete for Supper Bowl Title;
One hour. 12 players. 150 dinners. 900 Servings to the Ronald McDonald House of Dallas.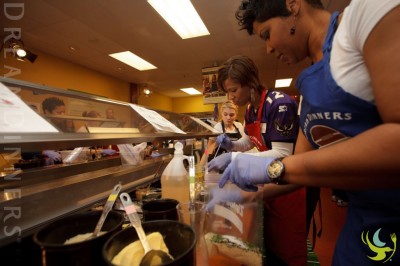 At the Dallas-Fort Worth Dream Dinners AFC wives and NFC wives battled hours before the Big Game in the first annual Dream Dinners Supper Bowl. The competition aimed to see who could make the most family dinners in one hour. Watch the video to see how this amazing feat led to one team taking away the trophy and a $15,000 check to benefit families of critically ill children through Off The Field Players Wives Association. And all meals made during the competition were graciously donated to the Ronald McDonald House of Dallas!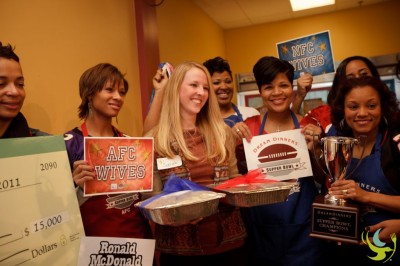 The Addison Rotary Open and After Party Live and Silent Auction, held in September, was a huge success.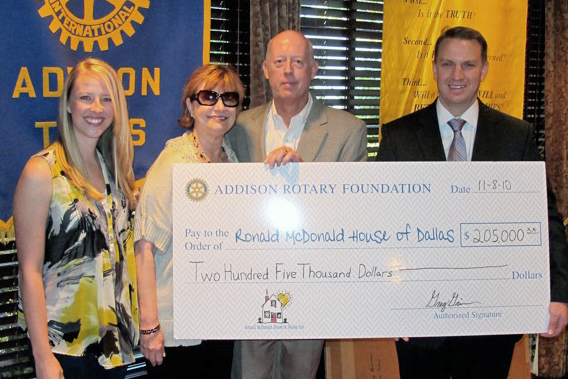 Thanks to the wonderful sponsors, golfers, and volunteers, the event raised $205,000 for RMHD! Thank you to everyone involved!!!

Signature Garment Care and Linen Service has so generously handled our laundering needs over last few years.
Since moving into our new House they have picked up bins of dirty linens and towels every week and returned them freshly laundered, ironed, and folded. Read more about how Signature helps RMHD in a recent blog post.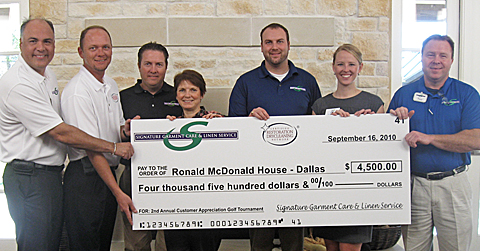 Recently, Signature held a silent auction during their Customer Appreciation Golf Tournament and donated the $4,500.00 proceeds to RMHD! What a great organzation. Thank you Signature!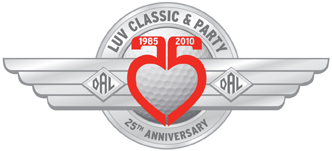 Love is in the air again. In early October, Southwest Airlines presented its 25th Annual LUV Classic and Party benefiting several Ronald McDonald Houses.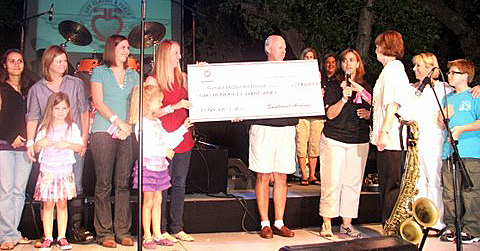 With the proceeds of this event, SWA donated $200,000.00 to the Ronald McDonald House of Dallas. But that's not all they do for us. Check out this video of Herb Kelleher and Southwest employees talking about what they do and why they do it. Thank you Southwest Airlines!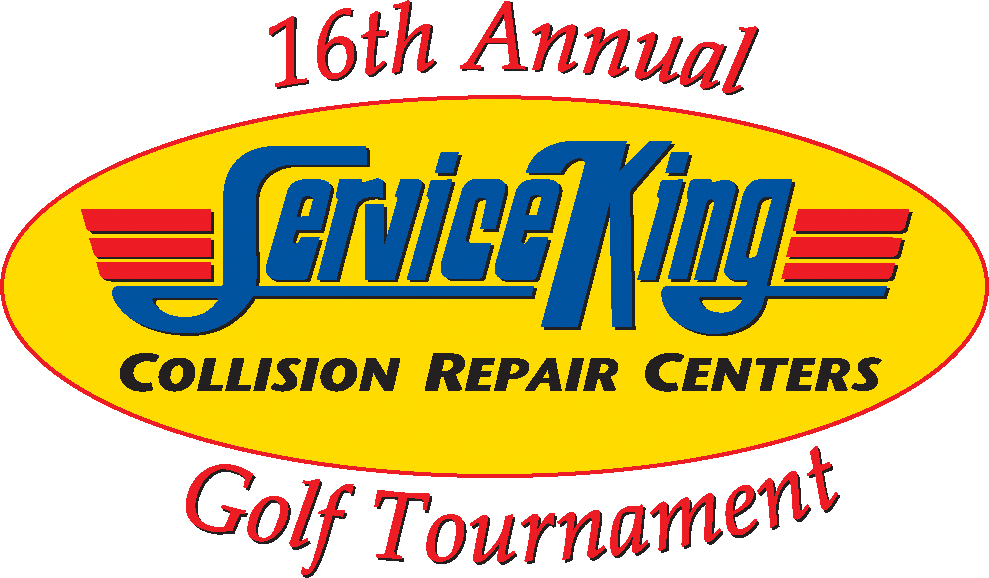 For over 15 years, the great people at Service King have hosted an invitational golf tournament for their business partners with the proceeds benefiting local charities. This year they've chosen the Ronald McDonald House of Dallas as the recipient.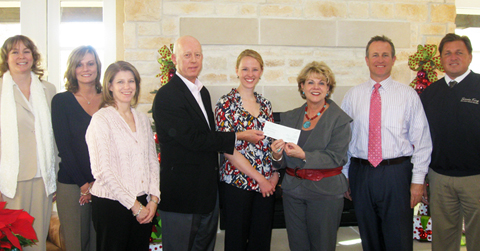 Service King presented us with a check for $65,000! We are so grateful to everyone who helped make this event happen. Thank you Service King!
"We choose organizations based on how they support families in our local area. We're a family-owned organization and supporting other families in need is a natural fit for us. We are privileged to be able to give back to our community through fundraisers like our tournament."
Eddie Lennox
Service King CEO & Owner
To learn more about Service King's charitable donations, watch this video or visit their website. They also have recently been added to our Cooking Group calendar and will prepare and serve our guests dinner twice a month.